5 Ways CRM Can Help Your Business
The Beginner's Guide to CRM
If you're thinking about using a CRM, or Customer Relationship Management system, good news: you're definitely on the right track.
Any organization looking for sustainable growth knows that managing customer relationships are pivotal for keeping organized within the entire organization. CRM helps companies be more connected to customers, improves business performance and grows your company faster than ever. 
"The purpose of business is to create and keep a customer." – Peter Drucker
But what can CRM do for my business?
What is CRM Software?
Customer relationship management software functions as your all-in-one organization tool. CRM allows businesses to manage all interactions and relationships with existing and prospective customers in a highly streamlined approach. It works as a centralized platform to gather, compile and store customer data to ensure that all employees within an organization have access to important information throughout the customer journey
5 Ways CRM Can Help Your Business
Cross-Functional Team Alignment
Building relationships with clients are at the core of a powerful CRM solution. Whether you are managing sales, marketing or customer service departments, a CRM system details the customer journey from beginning to end. When one department inputs customer information into the centralized database, the change will be automatically reflected in real-time throughout the system. This streamlined process provides managers instant access to accurate and up-to-date data that prevents bottlenecks in operations. In practice, when a prospective client fills in the 'contact us' form via the company website, the data is sent straight to Zoho CRM and compiled. The marketing team will be alerted to generate, qualify and prioritize the sales lead data for the sales department. The organized approach allows for seamless tracking of customers to accelerate contact times and improve conversion rates. Using this centralized database helps organizations create alignment within the organization and develop operational efficiency.
2. Identify and Categorize Leads
Customer journey planning helps to visualize the customer's perspective. This helps businesses learn about common customer pain points, inefficiencies with customer experience, and defines what customers need to complete a deal.
A specific tactic BluRoot utilizes is that we track the entire customer journey from lead-to-deal-to-sales. As our Zoho CRM can be used to store and analyze data, using previous customer data can help to rank certain leads based on probability of success. Focusing on these quality leads, the sales team can prioritize the opportunities that will close deals. With complete, accurate, centrally held information about clients and prospects, attention and energy can be focused on the right client.
Understandably, each industry and organization has its own customer relations strategies and tactics. A useful feature of the Zoho CRM software we use at BluRoot is that our developers can personally customize the CRM. At BluRoot, this allows us to create a complete start-to-end view of the customer with post insights that helps to optimize efficiencies leading to time and cost savings.
3. Improve Profitability
Integrating CRM software for organizations have proven to produce real results for all-sized companies (source: Nucleus Research).
Lead conversion up to 30% by creating reminders to follow up with prospective clients

Shorten sales cycle by 8-14% because of the data accessibility for salespeople

Sales Revenue by up to 29% by providing the full picture of customer accounts

Sales Productivity by up to 34% by visually conceptualizing the customer when the lead is passed from marketing to sales teams

Customer Satisfaction up to 35% and faster employee decision-making up to 38% through organization tools
But what about the costs?
Zoho CRM is priced on the numbers of users who access the system and the kind of features you need. The amount of flexibility provided can be affordable and even cost-effective in terms of capital outlay. As your company grows because of the developed efficiencies, the ability to scale up and add more people to the CRM is seamless.
A Zoho CRM platform offers you:
Faster Deployment

Organizational Efficiencies

Automatic software updates

Cost-effectiveness and scalability

Ability to work from anywhere on any device

Increased collaboration
A business will be judged by their bottom-line and investment in CRM proves worthwhile in increasing revenues and improving profitability
4. Increase Customer Satisfaction
Operational efficiencies realized from an employed CRM system leads to earned benefits with customer satisfaction. By utilizing CRM to compile customer information, this allows companies to understand the customer and build stronger relationships. For instance, if customer service needs to resolve an issue, the representative will be able to retrieve all previous customer interactions such as past purchases, preferences, and other special details. Additionally, the ability to compile notes of the conversation and store it on CRM is beneficial if the issue calls back to another representative or needs to be escalated to a different department. Having all the information in a centralized location allows for minimal wait times for the customer leading to greater trust. Customer satisfaction impacts team morale and retention rate and are key for sustained success. Moreover, if your customers are happy, then they may even be obliged to spread positive word-of-mouth and introduce new leads. Excellent customer service will satisfy both you and your clients leading to sustainable growth.
5. Offer Accurate and Faster Customer Support
Similar to the previous sentiment on customer satisfaction, the emphasis on customer relations cannot be ignored. Today's customers expect fast, personalized support, at any time of day or night. A CRM system can help provide high-quality service customers are looking for. CRM works to enhance customer experience in many ways via:
Sending automated emails

Organizing response templates

Improving complaint resolutions

Gather insights and pull reports
Firstly, automated emails work by creating different responses based on the department (e.g. customer service, IT, sales, HR) giving customers instant confirmation that their request has been sent or to redirecting them to FAQ or other resources.
Secondly, email templates for employees make the company seem more consistent and polished and save time in drafting an email from scratch. CRM allows for saving of different email templates that can be used and altered depending on the situation.
Thirdly, improving complaint resolutions refers to documenting exchanges that occur. Automatically tracking the length of the conversation or providing an automated customer survey can help identify aspects of the customer service that needs tinkering or further evaluation.
Fourthly, gathering insights and pulling reports means that during a conversion, employees can quickly see what products customers have ordered previously which may lead to an understanding about their wants, needs, and patterns of purchase. Having this information means that when an opportunity arises, the available information can increase conversion rates.
Final Thoughts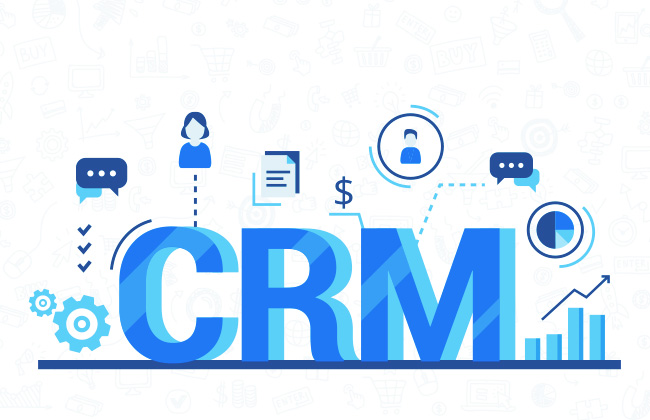 Customer Relationship Management (CRM) Software aligns an organization from top-to-bottom to encourage collaboration and establishes organizational efficiencies. Compiling all customer information into a single, integrated platform enables you to build a customer-centered business from marketing to sales, customer service, and business analysis. Having a complete 360 view of the customer gives a more complete understanding of your business and helps propel an organization to new heights