Trends in the Insurance Industry and What it Means for Your Business
Historically, the financial world hasn't necessarily had the reputation for innovations that have significantly altered the landscape.
However, recent technology trends and the rise of IoT enabled Smart devices have created opportunities for insurers to become more accurate and efficient in their estimates. New technologies are frequently coming to market, transforming the way we work, live, and financially protect ourselves.
For insurers to remain competitive, it's crucial for any insurTech provider to follow how their work is evolving. Thus, we have compiled a list of our top 5 insurance trends that we believe will have prompt impact.
Digital and Omnichannel Personalization
Automation and Machine Learning
Chatbot Technology
Cyber Security
Wearable Technology
Before delving into the trends, it may be beneficial to understand the 4 Common Challenges Other Insurance Brokers Face to help interpret the relevance of trends.
Digital and Omnichannel Personalization
Rapid and significant changes in consumer needs present the insurance industry its greatest risk – and opportunity. Consumer needs have become increasingly complex, while consumers are also now more knowledgeable about their decisions. High personalization levels in premiums have become an emerging trend with consumers having many options and being pickier in their decisions.
Thus, arises the question:
How does my business establish a competitive advantage to offer insurance products that are convenient, easy, and fast for consumers?
Three key market developments (Source: EY):
Customers want to research and buy products online and expect to communicate remotely across mobile channels.
Consumers want more frequent, meaningful and personalized communications
Agents and brokers want better data and tools on internal dashboards to streamline their operations
Solution:
By utilizing Zoho CRM and its integration with the productivity suite (Projects, Books, Support), a digital transformation to streamline operations for both employees and customers. For instance, the CRM system tracks sales, automates daily tasks, and engages customers in multiple platforms enabled by the cloud.
Automation and Machine Learning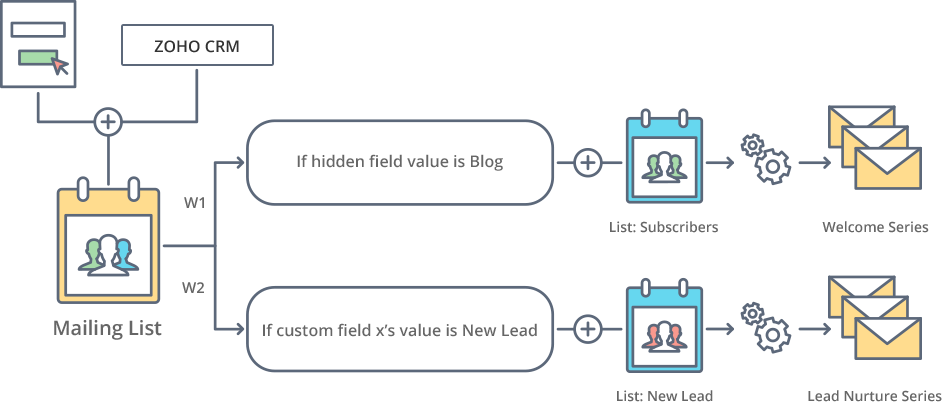 The rise of digitization has prompted insurance activities to become more automatable with employees benefitting from performing less mundane tasks. Some complex examples include some insurance companies have started to explore automating processes such as property assessment, fraud detection, and claims verification and processing. The misconception with automation is that it simply replaces human labour. Instead, automation and machine learning permits employees to be more efficient and accurate in their processes; saving time and money.
For example, consider aspects of the sales cycle:
Lead Generation (Marketing/Prospecting): Using Zoho MarketingHub enables you to provoke more leads by adding signup forms and smart pop-ups on specific website landing pages aimed to redirect leads even before they ask
Lead Scoring and Prioritization: AI software can rank leads based on the appropriate amount of interest (e.g. how long they read an article, which pages visited), and then redirect them to sales reps for more efficient conversion rates.
Scheduling Calls and Meetings: Scheduling tools can link available times to the client to signup for, which will then be automatically synced to your calendar.
Sales E-Mails and Follow-ups: Instead of manually writing and sending emails, templates can be created that will autofill personal information and automatically send when needed.
Chatbot Technology
More increasingly, customers are demanding 24/7 customer support. Especially for insurance claims where damages are involved, the time-frame for response needs to be immediate. For insurers, having ample resources to support the client is critical to ensure customer satisfaction. Fortunately, Zoho SalesIQ enables the possibility to set up an offline chatbot to handle common FAQ when staff are busy. Live chat software can be customized for specific business needs and can help redirect and suggest certain products for clients. Given that chatbots can compile customers' geographic and social data for personalized interactions, numerous insurance companies have invested in the technology to facilitate customized customer support.
Cybersecurity
Security has always been a prevalent issue when dealing with sensitive client data, but with more information being hosted virtually via the cloud, cybersecurity presents challenges for insurers. Cybersecurity represents a growing threat to the reputation and economic stability of financial institutions. With an increased dependence on mobile and smart devices that are vulnerable to compromise, insurers will need new analytics and security controls. Security is not something that can be delegated to certain individuals, firms will need to adopt security protocols to align the entire organization.
Cybersecurity works two ways with cyber insurance premiums:
Cyber insurance premiums are rising (with major retail and health care at the forefront) but are constrained by a lack of reinsurance options due to challenges in risk measuring, modeling and pricing.
For insurers themselves, finding a balance between scalable and cost-effective solutions and ensuring their own sensitive personal info is secure is imperative.
How can we help?
In protecting your own business, BluRoot can assist in implementing software solutions that comply with data legislation, as well as adopting best practices for risk management. BluRoot helps insurers effectively achieve cyber objectives by designing processes that fit business requirements.
Wearable Technology
Rapid and significantly growing wearable technology represent a new method of evaluating risk and safety. Wearables have expanded beyond initial hype into eHealth and are now equipped with the technology required to communicate with one another – and with insurers. As per smart devices, one example is that they can be connected to your vehicle and transmit user data to insurers. This is being embraced as an opportunity to more accurately assess damages while reducing premiums for good driver behaviors.
What are the challenges?
Many vehicles have keyless features where car thieves have responded with devices that intercept signals emitted from key fobs to open the door and drive away without the physical key.
Driver-less Cars: While a compelling option to provide more driving flexibility, assessing the extent of claims related to bodily injury and property damage could be a nightmare.
Wearables and Privacy: Google glass, FitBit's, GPS shoes can expose companies to invasion of privacy claims that may not be covered by general liability
Main Takeaway
In the age of the free market economy, fierce competition has always stimulated technological innovation. With evolving consumer preferences and a plethora of competitors offering similar services, flexibility in adopting trends are imperative in establishing competitive advantages. Evidently, digitalization is at the forefront of instating change, and embracing digital trends leads to cost savings and expedited processes.